We've made visiting Kiddie Academy locations easier than ever. Now you can tour a variety of building styles without leaving your desk, thanks to our virtual Academy video.
As you can see in this video below, our Academies are attractive additions to any community. We offer flexible designs, whether you're building from the ground up or adapting an existing space. Each state-of-the-art location features functional classrooms, offices, play areas (indoor and/or outdoor), commercial-grade kitchens and more.
These eye-catching buildings on their own help draw interest from a highly desirable customer base before they even learn about the advantages within, such as our innovative Life Essentials® Curriculum, our focus on character education, health and fitness and technology education. And each location features state-of-the-art security and safety features that give parents peace of mind.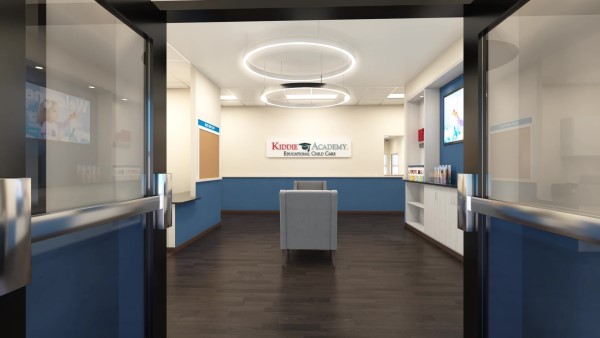 Support Every Step of the Way
Each of our Franchisees is assigned a project team who will support you throughout the construction process. You'll benefit from the experience we've gained from building more than 260 Academies nationwide. Using this knowledge and expertise, we'll help you navigate through the development process to keep your project moving—from providing concept plans to assisting with the zoning process and guiding your Kiddie Academy to completion.
Support isn't limited to the construction process. Our Kiddie Academy corporate team has experts to help you locate real estate, find the financing that's right for you, market your Academy and offer ongoing operational guidance.
Virtually experience the variety of building styles we have throughout the country. Remember that no matter what it looks like on the outside, when families step through your doors they'll find the high-quality education and care that has made Kiddie Academy Educational Child Care a respected leader in the field.
Request More Information
Complete this simple form or call to get in touch with our franchise development team today for a quick, zero-commitment conversation.
We're constantly growing.
And we're being recognized for it.
Swipe to see our awards & accolades.