Cleveland Poised to Become Kiddie Academy's Next Growth Market
July was a special month for Kiddie Academy® Educational Child Care as the first Academy opened in the Cleveland market. Kiddie Academy of Avon Lake is owned by Katie and Kevin Burns, two corporate executives turned entrepreneurs. "We're excited to bring the first Kiddie Academy to Northeast Ohio," Katie said. "We want our center to feel like home to the families who trust their children with us, and we're excited that we get to introduce Kiddie Academy to the area."
Avon Lake is 20 miles west of downtown Cleveland, on the Lake Erie shoreline. Katie says it's a great place to live and raise a family. "Avon Lake is full of young families and has everything you could want as far as amenities, shopping and community."
What's Happening in Cleveland?
The Burnses chose Avon Lake after searching available locations in several suburbs. They considered constructing an Academy, but then Kevin went to Avon Lake and found a building that had been used as a child care center before. "This was the selling point for us," Katie said. "We had discussed two other build-to-suit locations, but when this came on our radar, we felt like it was meant to be. We gutted it and breathed new life into the building."
Katie, Kevin and their staff were fully supported and counseled throughout their construction process by a team of Kiddie Academy professionals and experts. While nobody could have foreseen the COVID-19 pandemic, the staff continued to market to the community and were provided additional resources and support to meet the additional challenges. Kim Anderson, a Kiddie Academy Marketing Manager who worked with them to help introduce the Academy to the community, said, "During the pandemic, they kept up with their organic Facebook posts to ensure they had a digital presence during and after the stay-at-home orders in Ohio. Once orders lifted, the staff reached out to local businesses and dropped flyers to get the word out they would be opening soon."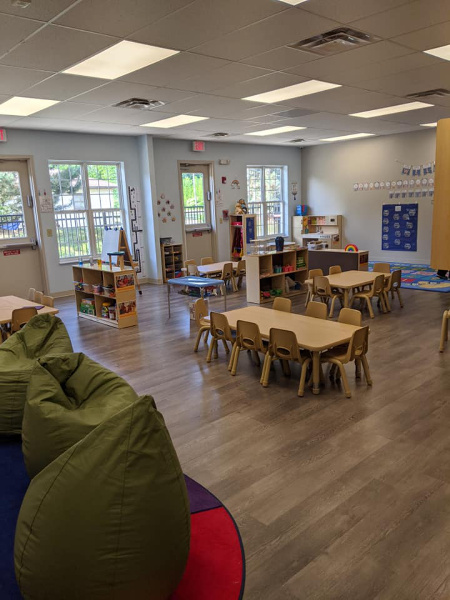 What to See in Cleveland
Kiddie Academy of Avon Lake is sure to impress families in the Cleveland metro with its beautiful renovation, state-of-the-art equipment and technology and age-appropriate, shaded playgrounds. The 6,700-square foot facility officially opened its doors to its first students on July 2. "We congratulate Katie and Kevin on being the first to bring the Kiddie Academy brand to this dynamic marketplace," said Kiddie Academy Vice President of Franchise Development Broc Silberzahn. "The Cleveland area is on the reboundrise and we feel it's a great place to start a business."
Request More Information
Complete this simple form or call to get in touch with our franchise development team today for a quick, zero-commitment conversation.
We're constantly growing.
And we're being recognized for it.
Swipe to see our awards & accolades.