Many people would look at the disruption brought about by the pandemic and be a little hesitant about starting a new business right now. However, in the eyes of an entrepreneur, this could actually be the ideal time to diversify and grow your portfolio.
Many people would also assume that the economy will be slow to rebound after the pandemic, and that small businesses, in particular, will have been the hardest hit. To its credit, the government has helped by providing numerous financial assistance programs to these businesses. In our role as a Franchisor, we've provided guidance to help Franchisees take advantage of those programs. Due in part to that guidance, along with other resources we've provided and the hard work of our Franchisees, no Kiddie Academy locations were closed permanently due to financial hardships related to COVID-19. And, as we've noted before, industry analysts have identified child care as one of the five industries expected to lead the economic rebound from the pandemic. Because of that, we're hearing from franchise owners in other industries such as hospitality, food, professional services and more. They see child care as a solid investment in this economic climate and are making their move now, while others are still researching and looking for reasons to be skeptical.
Interest in Childcare Franchises Continues to Grow
Interest level from Kiddie Academy Franchisee hopefuls is at a similar level now as pre-pandemic. For instance:
-We saw a 15% increase in leads in the beginning of 2021 over the same time last year.
-There was a 90% increase year over year in qualified leads in the beginning of this year.
-Earlier this year, we saw a 166% increase in Franchise Agreements that came from referrals over the same time last year.
-We signed nearly 300% more agreements in the last quarter of 2020 vs 2019.
Additionally, while credit markets tightened in response to the pandemic, financing continues to be available at historically low rates to qualified entrepreneurs interested in opening a Kiddie Academy franchise. Franchisee financing remains available through Small Business Administration (SBA) loans from national and regional lenders. These lenders appreciate Kiddie Academy's brand longevity, our Academy operating model stability and our history of strong systemwide Bank Credit Reports and Fund Reports.
Childcare Franchise Success
Here are just a few examples of people who have confidently invested in child care:
-The owner of a Kiddie Academy location in Virginia (as well as several hotel franchises) secured a piece of land prior to the pandemic with the intention of building another hotel. Seeing how his first Kiddie Academy location became a pillar in his community during the pandemic, especially for the essential workforce, and given the downturn of the hospitality industry during the pandemic, he decided instead to use the land for a second Kiddie Academy location.
-Even though new Franchisees in St. Louis, Missouri do not have educational child care experience, their previous franchising experience with business services franchises, along with the Kiddie Academy support model, gave them the confidence that they can be a successful owner of a Kiddie Academy franchise.
-Another new Franchisee, who owns tax services franchises is now looking to expand her franchise portfolio by opening a Kiddie Academy in Dayton, Ohio.
-Additionally, new Franchisees in Florida and North Carolina (who are franchise owners of hotels) are now expanding into educational child care.
After witnessing the impact Academies had in their respective communities and expecting child care to be more in demand than ever as our country comes out of the pandemic, these Franchisees (and others in our system) felt confident about continuing their journeys with Kiddie Academy.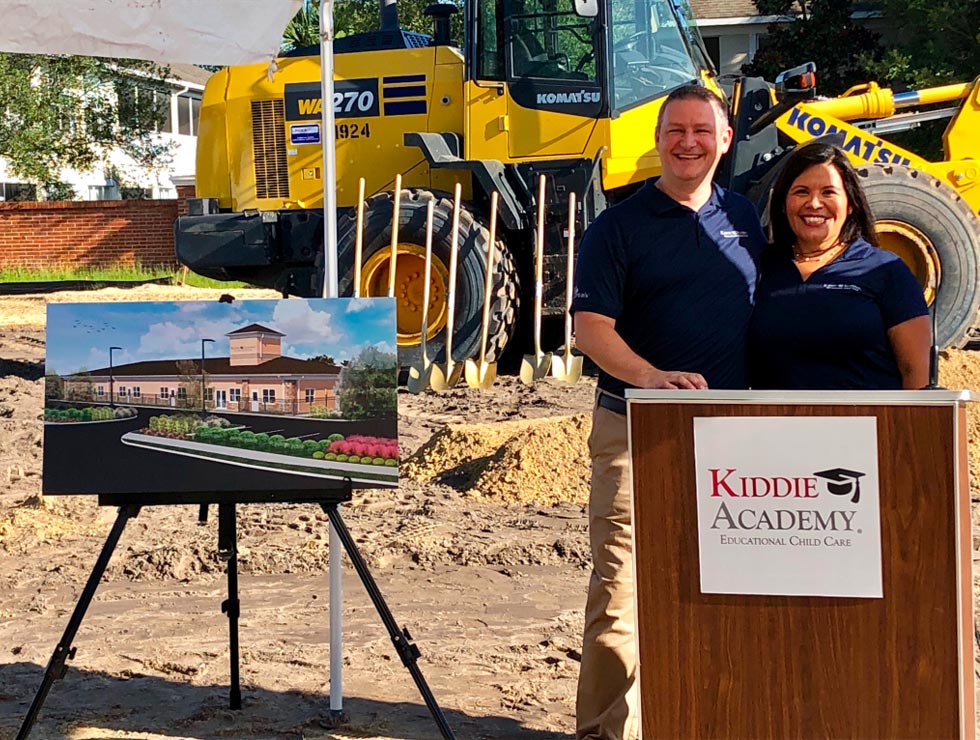 Request More Information
Complete this simple form or call to get in touch with our franchise development team today for a quick, zero-commitment conversation.
We're constantly growing.
And we're being recognized for it.
Swipe to see our awards & accolades.