Meet Katie Moore
Katie Moore always knew she wanted to do something bigger. In her former life as the manager of a payroll company, she felt unchallenged and uninspired. She had an entrepreneurial spirit, but as a new mom, Katie was unsure if now was the right time to make a big change. After researching franchise concepts, Katie found Kiddie Academy® Educational Child Care, a franchisor with unmatched support and a model she knew could grow her business at her pace. Katie discovered she didn't have to wait until her kids were older to follow her passion.
Kiddie Academy of Bolingbrook, IL
Kiddie Academy of Darien, IL
Family is the focus in the morning.
Katie and her two children make a big breakfast and sit down to eat together before she drops them off at school and heads to the Academies. "I appreciate the one-on-one time I get with them." It's a stark contrast to Katie's old life—where mornings were rushed and hectic as she was scrambling to dress and feed the kids (and herself) and get to her office on time.
Being a mom has been the biggest advantage for me as a business owner
When she opened her first Academy, Katie's daughter was 6 months old and her son was 2. Katie was able to watch them benefit from the high-quality Kiddie Academy education. Being both a consumer and an owner has been an incredible advantage, allowing Katie to connect with her customers on a very personal level. It's been great for building customer loyalty, which translates into great retention rates!
Juggling two bustling Academies
Katie's Academies are fairly close together so it's not hard to manage both, but she admits it takes some planning. "I work with my staff to figure out where I am needed most and start my day there. I have a great daily routine of visiting both Academies and I still get to interact with all of my families."
The most rewarding part of every day is our families
"Thinking about life's purpose… I wanted to do something where I could help people, where I felt like I was giving back to the world." Katie gets to do that in big and small ways every day for over 300 families. "Whether it's something small like helping a mom on the first day of drop-off or something life-changing, like helping one of our kids, Alex, through cancer treatment, this is why I do what I do."
Wrapping up the day
Katie wraps up her day early to pick up her kids up from school and get them to their after-school activities. "My kids have busier schedules than I do!" For Katie, it's easy to switch gears. "I know my staff will handle things so my attention is where it should be. I always try to be present. So, if I am at the Academy, I am focused on that but when I am with my family, I'm not thinking about work. I feel I have the balance I wanted when I started on this journey."
Success seems inevitable
Katie attributes her ability to successfully run two Academies on the Kiddie Academy model. "They provide the proven concept, the incredible support, the resources. I wouldn't be able to juggle all of my responsibilities if I had started any other small business. I would be too overwhelmed or the time away from my kids wouldn't be worth it. The support from Kiddie Academy corporate makes it easy."
"As a mom and entrepreneur, I always say I have four kids. My daughter, son and my two Academies."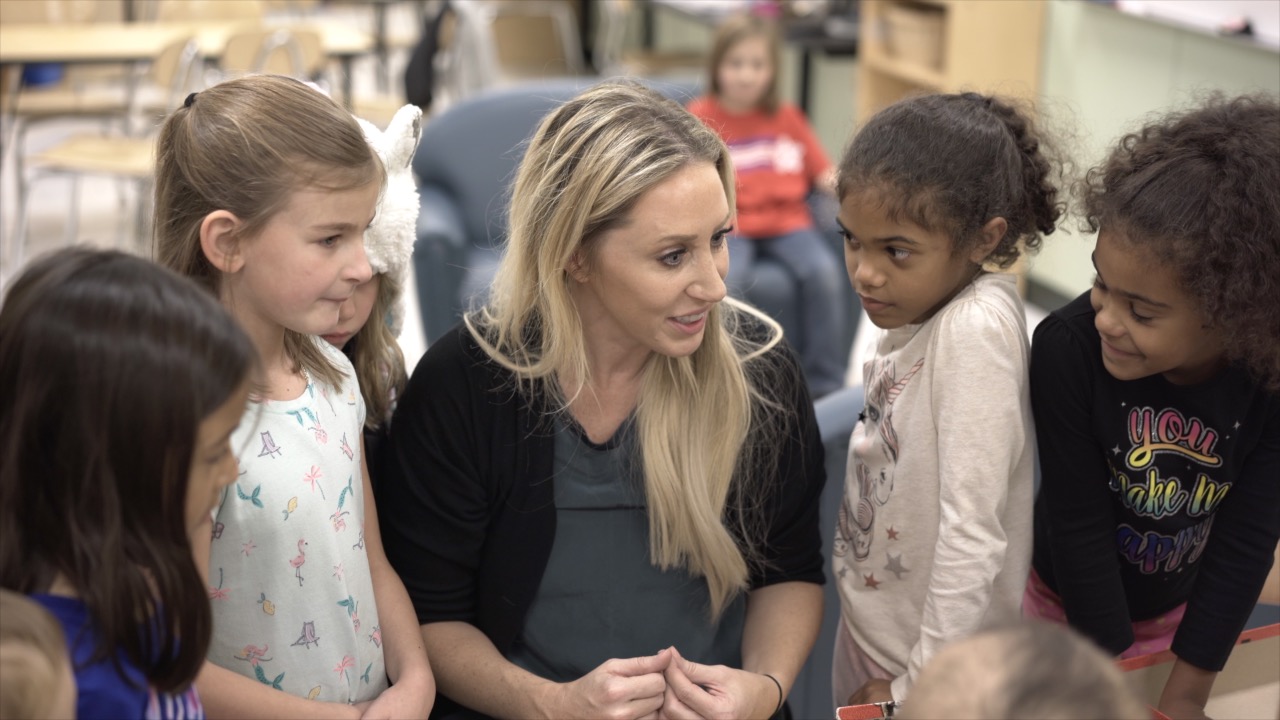 Discover the best of both worlds
Begin your journey to Kiddie Academy franchise ownership today.
Steps to Ownership